This was one of those matches that had two distinct halves.  The first half was largely out-of-sync and chaotic followed by the second half that proved to be a comprehensive performance.
So, we started the match as follows with Mendez playing a free role in the middle.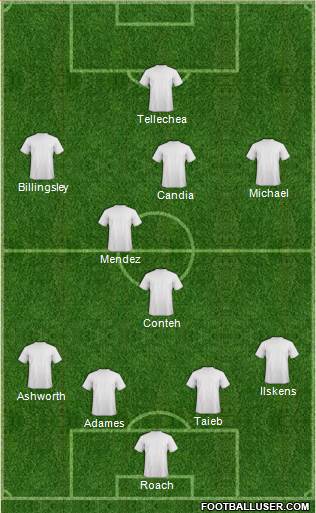 We were unsettled to start the match.  In particular, Candia started poorly with a poor touch in the box followed by being dispossessed again shortly thereafter.  Michael also made a couple uncharacteristically poor passes, the second of which resulted in a St. John's corner kick.
Remarkable throughout the match were the number of balls that ricocheted off UCSB players for St. John's possessions.
Mendez had a decent start to the half but then resorted to forcing balls.  However, our best opportunity came after Mendez found the feet of the ref.  In the ensuing scramble for the loose ball, Billingley ended up with the ball and made a long, determined run upfield.  He combined with Tellechea just inside the box which resulted in Billingsley having an open look at goal.  His shot was blocked with the rebound falling to Candia who had an even better look at goal from 6 yards out.  His shot found a defender on the line, and the danger was cleared.
It turns out that Ashworth actually does have a decent left foot as evidenced by a good looking cross as well as a left-footed blast later in the match that I imagine sailed out of Harder Stadium.
Our first substitution was Clemmensen for Michael.  Tellechea shifted to the left wing (where he looked good) while Billingsley moved to the right wing.
The Clemmensen substitution would pay dividends when we earned a throw-in deep into St. Johns' half.  It turns out that in addition to having a decent left foot, Ashworth can also hurl the ball, and hurl it he did.  It appeared Clemmensen got a glancing header to it which fell onto the shoulder of a defender and was redirected into the goal.  While Clemmensen was credited with the goal, it should have been recorded as an own goal.  However, being awarded with the goal was not wholly undeserving since he was the one that created the goal.
Toward the end of the half, Kryzda shanked a shot that found the foot of an unaware Billingsley, and the ball had enough pace to careen off Billingsley's foot to resemble a shot that went far of the right post.  That play was representative of the first half as it encapsulated a lack of focus, ensuing chaos, and a ball that didn't bounce our way.  Of course, our "goal" on the long throw was the lone exception to that.
We came out with a different look to start the second half.  Clemmensen remained up top with Candia starting on the left and Fontes pairing with Conteh.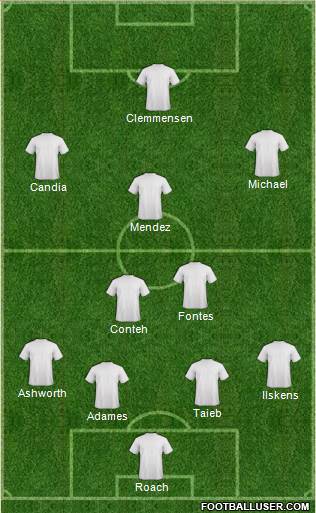 Candia looked like a different player in the second half.  Instead of poor touches to start the match, he started the second half creating danger around the opposition's box.  First, he earned a FK just outside the box.  Not long thereafter, he gained the box off the dribble, split two defenders, and sent a cross in front of goal.  Later, he had a shot deflected that found Clemmensen, but Clemmensen wasn't ready for the pacey deflection and his touch inside the box was too heavy.  Candia cramped on that play and left the match, but his second half performance was excellent.
Michael and Ilskens later combined with a nifty give-and-go that led to a corner kick.  On that corner kick, Ashworth's attempt was cleared off the line.
With more control over the game, better passing, and finding more space, we were able to take a commanding lead over the game when Conteh found Michael with a long ball into the box and toward the endline.  After the defenders over-ran the play, Michael cut the ball back inside and found the inside of the near post with a left-footed shot.  The keeper got a piece of the ball, but he wasn't able to stop the goal.
We switched off after our goal, and St. John's nearly answered right away with a free run at goal.  However, Roach came out, cut down the angle, and was able to make a save with his trailing leg.
In my team preview, I quipped that we would need Conteh to be our Kante.  And today he certainly was.  For me, he was our MOTM.   Conteh disrupted many plays while also retaining possession and making the right pass in almost every situation.  The pairing with Fontes represents a formidable midfield shielding of our excellent backline.  When we take a 2 goal lead this year, it will be extremely difficult for any team to unlock our defense.  As TVS explained in his post-match comments, he has the personnel to field flexible line-ups built on more aggression or more defense.  I think we're going to try to score goals as quickly as possible this year and then shut the door on the opponent.
Also in my team preview, I projected that if Billingsley can find consistency, it would be difficult for another player to take minutes from him.  That was the case tonight as I thought he was our most consistently dangerous player.  Speaking of flexibility, the fact that Billingsley feels comfortable on both sides of the pitch gives TVS added options to rotate players as he did tonight.
Next up is UC Riverside at home.  UCR is coming off a loss at LMU.  I've discussed how UCR's schedule is very difficult as well as the RPI implications of willingly scheduling them.  To bolster my argument, GauchoDan took last year's RPI values and based on those numbers, evaluated the difficulty level of out-of-conference schedules.  Unsurprisingly, UCR has the 27th most difficult elective schedule in the country despite being a historically poor team that has no business putting itself on the road for its first six matches against quality opponents.  I'm sorry for having trouble letting this go, but I still find it unconscionable that we scheduled them.  I hope the team takes my anger out on them on Sunday!