We lose.
Meh.
We had very little to play for while Davis was fighting for its proverbial life.  It's also Halloween weekend with a big concert on Saturday night in the Thunderdome, so maybe that played a role in our energy level as well.
I had very few goals for this match.  I didn't want Espana/Batista to pick up their 5th yellows, I wanted to avoid a red card, I wanted Mendoza to avoid his 6th yellow, I wanted to avoid any injuries, and I wanted to avoid OT in order to minimize all the aforementioned possibilities.  While I couldn't bring myself to prefer a loss, I also wanted to avoid the prospect of playing Cal Poly again since those matches are such a wild card.  So, mission accomplished.
Apparently, Vom Steeg had slightly different priorities from me.  I understand why he started Espana on Senior Day, but we earned a throw in within the first two minutes of the match.  I was sure Vom Steeg already had someone waiting at the scorer's table and that Espana would come out of the match.  Nope.  He was subbed out after about 5 minutes. Ok, no biggie.  However, I was mystified when he brought him back into the match with over 20 minutes to go.  Yes, we were down a goal, but why risk it?  And let's say the risk pays off, and we go to overtime?  Why risk the other risks?  Did Vom Steeg owe Cal Poly a solid?
I also thought it was risky to keep Quezada in the match after he picked up a yellow card (his fourth on the year) in the first half.  Ok, Batista shouldn't play and Ilskens was unavailable due to being ill, so the options were limited.  But still, I was expecting Liua to come in at CB.  Nope.
Even with a win versus Davis, a win in the semi-final and a shootout loss (counts as a draw in the RPI calculations) in the final, an at-large bid would still be a long shot.  We need to win the conference tourney for inclusion into the NCAA tourney, and we're going on the road in the first round.  That's just the way it is.  I'm no fan of the RPI, but I am a realist.  While only the top 16 teams are seeded, the NCAA selection committee considers RPI and geography when creating the first round match-ups.  So, we would most likely travel to a team from the West with an RPI rank in the 16-32 range.  Possible teams would be:
15.   Denver
23.  Pacific
24.  UCLA
25.  Utah Valley
32.  San Diego State
Not to belabor the point, but we not going to have a high enough RPI ranking to merit hosting a first round match.  Now, I wouldn't bet my life on that as the NCAA could throw us a bone as a conference champ and a nice facility, but I am fully expecting a first round road match if we win the conference tournament title.
Since I viewed this match as a throw-away game, I won't be doing any analysis on it except for sharing our formations that started each half.
First half (excluding Espana's first 5 minutes):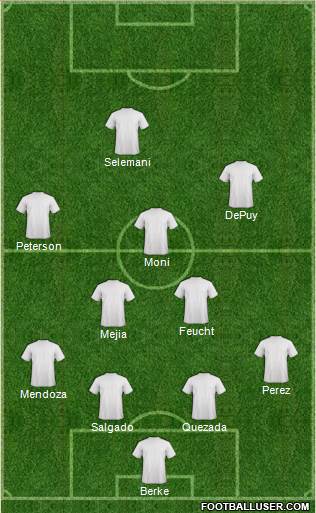 Second half: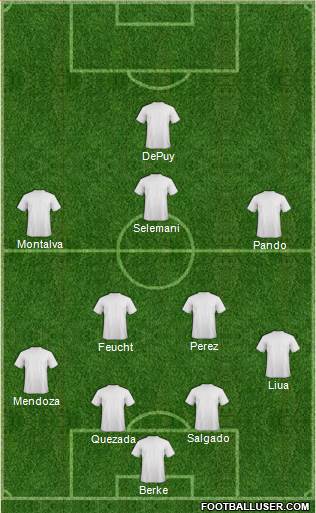 Now we wait.  Davis plays at Fullerton on Saturday, and we host the winner on Wednesday.  In my opinion, a Davis win would benefit us, so I'll be hoping for a Davis win… in PKs.