UCSB can normally expect to make the NCAA postseason, and 2016 was supposed to be no exception.  So, what went wrong?
RPI.  RPI.  RPI.  Much more than any other factor, our schedule was to blame.  With a strength of schedule ranking of 137 (out of 206), 50% of our formula dragged us down and was out of our control.  If you look over the RPI rankings, the only at-large NCAA participant with a worse SOS ranking than us was Florida Gulf Coast (173), and they needed a 14-3-2 record in order to overcome their SOS and barely squeak into the NCAAs.  By the time our 5 game losing streak ended, we needed the BW Tourney Championship, but we came out flat at home in the semi-final and deservedly lost to a more inspired CSUF.  Losing Justin Vom Steeg, Jome, and Acheampong to the pros in the spring (without much of an opportunity to replace them) did not help.
It's really a shame, particularly for DePuy who turned down professional offers in favor of finding some magic his senior year.  Also, this should have been Andy Perez's junior year after he sacrificed his redshirt year midway through his sophomore year.  Despite having a year that I thought was disappointing, his willingness to essentially forgo a year of eligibility is commendable.  So, who else do we lose to graduation?
In order of importance and years on the team ():
Josue Espana (2)
Riley Peterson (1)
Although Salgado is listed as a senior on the roster, he will return next year.
The only player that I anticipate may test the professional waters is Selemani since he did so last year.  Otherwise, I don't foresee any others jumping to the pros.  If there is a silver lining to us not finding more success this year, that would be it.
There are good reasons to be optimistic for next year.
First, this year's freshman class proved it could contribute.  Batista, Amo, and Le Roux were all deserving starters.  Had Batista played in his natural position from the start and had Amo not gotten injured, either of them could have been the conference's freshman of the year.  Had our forward and wing play not been one of our strengths, Billingsley would have received more starts in addition to earning significant minutes.
Second, our sophomore class was also quite strong with Pando and Ilskens coming in as transfers.  Pando was a revelation and Ilskens started to find his groove after being injured for the first half of the season.  I remain intrigued by Moni, and I wonder if Espana's graduation will lead to a more possession based team with fewer unnecessary turnovers.  Addition through subtraction?  Cody Gibson and Jonah Adomakoh redshirted their sophomore year and will be nice options next year.  I do not expect Sam Strong to return.
Third, I expect next year's seniors to bring passion, motivation, and selflessness that is badly needed.  Feucht, Selemani, and Mendoza all bring it.  Quezada and Salgado are more than capable CBs, but Vom Steeg never seemed entirely comfortable with the pairing.  We'll see how Liua and Montalvo contribute.
Of course, we will be adding more players including the 2017 freshman class which includes 1 forward, 1 midfielder, and 2 defenders.  We can also expect 2-4 transfers or otherwise unannounced players.
Without knowing the quality of our incoming players, here's how we might line-up with the best of our returning players: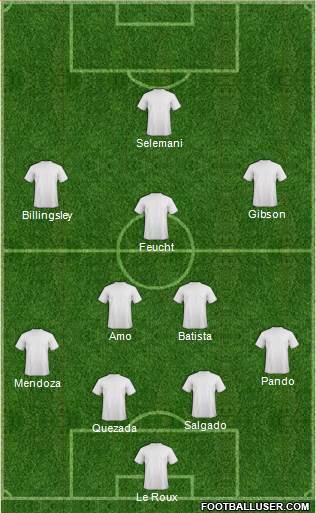 Ilsekns, Moni, Liua, Adomakoh, Perno, Montalvo, Mejia, and Kim would also be in the mix.
In terms of needs, I would rank them as follows:
Keeper
Le Roux was largely dependable, but keeper was not a strength.
Right Back
Pando is our best option, but he's not a natural defender and is more valuable upfield.
Center Back
While we have plenty of respectable options with Salgado, Quezada, Amo, Batista, and Ilskens, only two of these five players are natural CBs.  Also, sliding Batista or Ilskens into the backline might necessitate Feucht playing deeper.  I would like to see him play a more advanced role next year.   We lack depth at the position and Vom Steeg appears to lack confidence here.
Mendoza has a lock on the left back position with a capable backup in Perno.
Our central midfield should be a real strength with Amo, Batista, and Feucht.  Ilskens provides depth as a holding midfielder while Moni provides depth farther upfield.
Our play on the wing and at the point of attack should be strong with most of our options being interchangeable.  Bringing in a quality right back would add Pando as a winger/forward option.
Much can happen in the 9 months (!) until the 2017 version of the Gauchos takes the field, so time will tell which players will be available for selection.