Another match, another formation.  While we successfully employed a 3-6-1 versus Pacific, tonight was a different 3-6-1 , more of a 3-2-4-1 versus the 3-3-2-1 we had used previously.  It meant that our backs were more exposed, both in the middle as well as on the flanks.  If we could revert back to our original 3-6-1 or a 4-2-3-1, I'd appreciate it!  Trust me, I've played many hours of Football Manager, so that makes me an expert on these matters.
Tonight, we started 6 freshmen for the first time with Fabbretti earning his first start.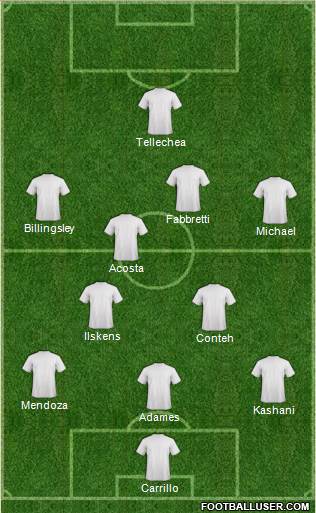 During the first half, it didn't appear as though we were playing an 0-8 team.  UCR was able to find space and isolated defenders on the flanks which led to an early shot that Carrillo blocked with a rare knee save as he got low.
Then in the 13th minute, UCR played a searching ball toward our box.  Kashani was there to deal with it.  Carrillo was there to deal with it.  Unfortunately, both Kashani and Carrillo were there to deal with it.  Likely due to poor/no communication between them as well as a feeling of diffusion of responsibility, neither dealt with the danger, so UCR's forward poked the ball among the convergence of all three players and rolled the ball into the abandoned net.  Video of the goal:
FINAL: Eduardo Sanchez (13' via Robert Garcia-Vargas) put #UCRiverside up, but it's not enough as UCR falls 3-1 at UCSB. pic.twitter.com/fxKFvUzTG9

— Big West M-Soccer (@BigWestMSOC) October 1, 2017
As in a prior match, Kashani was on goal kick duties.  Carrillo must be dealing with a minor injury or some tightness, probably his groin again.
For the second match in a row, we found ourselves down a goal late in the first half.  And for the second match in a row, a substitute scored late in the half to draw us level prior to halftime.  This time it was Liua.  Michael played a lovely 20 yard floated ball upfield that dropped into the path of a spinting Kryzda.  When I say dropped in his path, I mean the ball dropped in his path.  Kryzda stepped on the ball in stride and fell forward, but quickly got back to his feet, had his shot blocked, andthe ball fell to Liua just inside the left corner of the box.  With UCR's defense not fully recovered, he had time to pick out his shot, and he placed a relatively soft, curled effort just beyond the reach of the keeper and just inside the far post.  Place your shots, kiddos.
Vom Steeg was clearly unhappy with our defense in the first half (and he confirmed this in his post match comments), so he very intelligently employed the formation I've been wanting.  Yes!  The 4-2-3-1!  Ilskens dropped to CB while Mejia and Salgado assumed the holding midfield roles.  Michael played more centrally to start the half.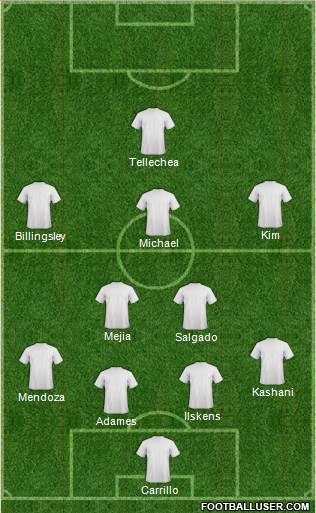 The tactical change greatly reduced UCR's opportunities and denied them space on the flanks.  Their opportunities tended to come from free kicks, most of them launched from near midfield.  On those free kicks, I thought we conceded far too much space and should have played a higher line.  Instead, those kicks were sent into our box and created some chaos.
Mejia and Salgado both did their jobs.  Mejia excelled at keeping possession while picking out the right passes.  Salgado played as an effective disruptor in midfield and maintained solid positioning when we became more compact in defense.  He also consistently picked out the right pass.  Metiche would be proud.
We would take the lead when Michael passed to Tellechea who got off a shot.  The keeper had come way off his line and blocked Telelchea's shot from the top of the box but wasn't in position to deal with the rebound that fell to Billingsley, also at the top of the box.  Noah calmly chipped the shot over the keeper and into the goal.  It's no coincidence that these three players would all figure into the goal.  All three have been playing phenomenally well lately and with tremendous confidence, flair, and determination.  In particular, my notes are filled with positive references to Michael.  He would hit the post and hit two shots into the side netting in addition to consistently being involved in many of our dangerous chances.
Later in the half, Billingsley nearly chipped the keeper again from 40 yards out.  The keeper scrambled back toward his goal and barely got his hand to it.
About 10 minutes later, Billingsley was sent in on goal by Tellechea.  With Billingsley 4 yards outside the box and the keeper 2 yards outside the box, Billingsley attempted his third chip on the night.  Unfortunately, he had gone to the well once too many times.  He chipped it with a pitching wedge instead of a nine iron, and a UCR defender was able to catch up with the high arcing ball before it found its way into the goal.  Rounding the keeper would have been the smarter choice there.
Michael iced the game in the 86th minute when he ran at defenders on the dribble, megged one defender, ran past another at the top of the box, and then fired a shot past the keeper into the far post.  It was an Ema Boateng-esqe goal.
All our goals can be seen here:
FINAL: @UCSBMensSoccer (2-0-0) find the offense again, 3-1 over UCR.

⚽️ Alex Liua (38'), Noah Billingsley (54'), Rodney Michael (86').#GauchoPride | #PlayBig ⚽️ pic.twitter.com/Vhtqm9Tgd2

— Big West M-Soccer (@BigWestMSOC) October 1, 2017
In the Big West North, Davis and Sac St both conceded game-tying goals in the final minute and ended up drawing their home matches.  Poly went on to lose 1-0 at home to CSUF.  The North has a cumulative 5-1-2 record versus the South.  Standings
UCSB  6
Davis 4
Sac St 4
Poly  3
Believe it or not, we're now on a 4 match winning streak. Olé!
We next play at CSUN on Thursday.  Of note, senior defender Darion Dealing picked up a red card versus Davis, so he will be suspended.