Tl;dr – Continue reading to learn about my months long journey to procure an authentic UCSB soccer jersey by employing dogged determination and knowledge of public records laws to satiate my manic motivations.  Pics at bottom.
If you are a fan of the beautiful game, you've surely recognized the prominence of replica soccer jerseys at stadiums and bars on match days.  Even non-fans must notice the omnipresence of jerseys whether as casual wear in the 'hood or when one tunes in to the nightly news and watches footage of a Ronaldinho impersonator hurling a rock at Israeli defense forces.  On the day that aliens finally visit our planet, their team of cultural anthropologists would surely conclude that the most ubiquitous garment worn by earthlings is that of the humble soccer jersey.
Long time fans of Gaucho soccer are well aware of the impossibility of buying an authentic or replica UCSB soccer jersey.  Visiting the Gaucho Shop's jersey section has been a years-long source of futility for fans hoping to don the kit of their favored collegiate club.  If Athletics can muster the resources to sell basketball and baseball jerseys, then why not also soccer jerseys?  If you further peruse the Gaucho Shop, you will encounter innumerable choices of clothing along with the most random knickknacks one can imagine.  But no soccer jerseys?  The answer must be that all the merchandise appears to be generic items sitting in a Coppell, Texas warehouse that services a variety of organizations, and those items are simply awaiting a UCSB logo adhered, stitched, or silk-screened  to the merchandise prior to shipment to the customer.
In April of this year, I decided to make it my obsession to procure my very own UCSB jersey, so I started by scanning the directory of UCSB Athletics and concluded that my best bet was to get in touch with the Director of Marketing, Branding and Sales.  Perfect!  I received a timely reply and was told he would check with the guy who runs the Gaucho Shop, and someone would get back to me.  According to the directory, the Gaucho Shop manager's title was Assistant Athletics Director, Sales and External Relations with a reporting line to the aforementioned Director of Marketing.  I was definitely on the right track and in touch with the people that could help me on my quest for my very own jersey.  After all, I was interested in Sales, and on top of that, I was External Relations!
After not hearing from anyone for several days, I decided to reach out directly to the Assistant AD for Sales and External Relations.  In my e-mail, I outlined why a strong consideration might be made to sell UCSB replica jerseys and included a link to an article about the growth of soccer apparel.  I received a reply that cited cost as an impediment to selling the jerseys along with the inability to identify a vendor that could provide them at an acceptable cost and quality.  I proposed that since Nike already produced the current jersey, it might make sense to use them as the vendor.  I also suggested that they purchase a limited number of jerseys and see how they sell.  As a token of my confidence, I offered seed money to test the market… if the jerseys sell, I get my money back (they keep the profit), and if they don't sell, I don't get my money back.  No risk!  Here is an excerpt from the reply I received:
Unfortunately, our department/institution cannot accept such a kind offer (although, if we were allowed to, more offers like this would certainly help with a merchandise budget of our size).  The jerseys we order from Nike are custom and out the door cost around $180/piece to produce.  Our contract with Nike is not set up in such a way that facilitates retail, only for team services.  This is the reason we can only carry the most basic Nike products, such as t shirts, hats, etc., and not custom items ie. uniforms.
Whoa! Whoa! Whoa! As someone who owns 20+ replica jerseys, this statement did not ring true.  Let's start with the cost of $180 per jersey.  The highest quality jerseys on the market are "authentic" jerseys followed by "replica" jerseys which are very close to each other in appearance and quality.  Both types of jerseys can be purchased from about $40-$170, so a cost (wholesale cost, not retail cost) of $180 was simply not to be believed.  So, I set my mind to verifying those claims.
Since UCSB is a state of California entity, the university is legally obligated to produce documents by request per the Public Records Act.  I visited UCSB's public records page and made a request pertaining to soccer purchases from the prior three years.  Additionally, I requested the contract Athletics had with Nike.
About 10 days later, I received a zip file that contained 2 pdf documents and 2 Excel spreadsheets that memorialized a host of purchases including boots, socks, shorts, balls, bags, and… jerseys!  The e-mail also included this note:
We do not have record of a contract with Nike. 
I looked through all the invoices for soccer jersey purchases from 2012-2016 and 2016-2017.  The purchase price ranged from $30-$40, and I confirmed these were match jerseys by referencing the Nike team catalog.  In fact, UCSB got a pretty nice discount on the jerseys as they bought them at about half the MSRP price.  As a California tax payer, this made me happy.
Now, what to do with this information?  My ultimate goal was two-fold:
 Buy a UCSB replica or match jersey for myself.
Influence Athletics to sell replica jerseys to the public.
With regard to goal #2, I saw this as a win-win-win situation.
As fans, we win by sporting the kit of our club with pride.
The soccer program wins with free advertising and a more energized fan base.
Athletics wins by turning a profit while also increasing visibility for itself.
Challenging the individuals within Athletics was likely going to prove unproductive as they seemed unmotivated to pursue the opportunity, perhaps for good reason.  Instead, I decided to again use the public records process to further demonstrate that the previously cited impediments weren't impediments at all by proving the following:
A jersey vendor will sell the same jerseys to the public as it does to the team (To counter the contract impediment).
The jerseys can be purchased at a reasonable price (To counter the $180 wholesale cost impediment).
The missing piece, of course, was to demonstrate demand for the jerseys at a profitable price point.  Now, the UCSB trademark rightfully belongs to the university, and thus I am not legally entitled to use the trademarks for financial gain, so I could do nothing with the jerseys but keep them or give them away (no PayPal, no Venmo, no S&H, no future considerations… nothing!).  This was going to have to remain an art/civics project where I would redirect and sink my previously pledged seed money that I had hoped would be used to establish the viability of a profit margin and instead narrow the objective to obtain the jerseys at a reasonable wholesale cost… then give them away.  I was resigned to take a financial bath to do this with the hope that Athletics (or perhaps the soccer program) pursues the venture in the future.
After learning in late May that Athletics was switching from Nike to Adidas, I filed another public records request for documentation pertaining to the procurement of Adidas jerseys.  Unfortunately, the public records coordinator was not forthcoming with the requested documents, and I found it necessary to send 10 e-mails between May 31 and August 29 to follow up on my request.  Every time, I was informed the documents did not exist.  However, during that period of time, I had gleaned that the jerseys for the upcoming season had been ordered and later even received, yet along the way, I was not being provided the documents UCSB was legally obligated to provide.  Then finally, on August 29, I received order confirmation documents pertaining to the purchase of the jerseys, one for the white and one for the blue.  The day prior to receiving these documents, the public records coordinator offered this explanation for not providing the documents sooner:
After several conversations with our Procurement and Athletics Department, I have discovered that there are not any quote(s), invoice(s) or receipt(s) for the adidas men's soccer jerseys. The jersey order was a comp order that is being deducted from the soccer team allotment per contract terms. However, I have requested a copy of the online jersey order, and I expect to have that to you no later than this Friday, September 1st.
Ok, fine. But frustratingly, the documents I received included an Order Date of May 26.  My initial public records request came just 5 days later, and yet it took 3 months and persistent follow-up to finally obtain the documents.  Had I been stonewalled?  Whatever the case, I finally had a promising lead with which to work, so upward and onward!
After communicating with a couple sales people within Adidas, I was put in touch with a retail vendor.  By referencing the order confirmations from the public records request, I was able to obtain the original UCSB orders for both the white and blue jerseys.  I was quoted a price of just $40 which included the custom design, logos, and jersey number.  I wasn't a math major, but I'm quite sure that $40 is substantially less than $180.  Additionally, finding this vendor wasn't as elusive or futile an effort as I was led to believe it would be.  In reality, I was a mere 2 e-mails of separation away from the vendor.  Piece of cake, really.
It was now time to complete a major milestone of my project with the actual purchase of the jerseys.  So, I took a deep breath and placed a substantial order for both the white and blue jerseys.
After placing the order for the jerseys on September 21, I received a box on November 3.
Unpacking the box revealed 64 authentic UCSB soccer jerseys including  numbers which were included at no cost! Forty bones per jersey out the door!
When I say authentic, I mean the exact jersey.  Yeah, Feucht.
And the back.
In white too!
But what the hell am I going to do with 64 jerseys?  Athletics wasn't interested in selling them, and as I stated previously, I have far too much respect for trademark laws to gain anything monetarily, so I decided to give them away to former players and fans I know that would appreciate the gesture.  Bye, bye, my sweet darlings!
Will I ultimately be successful in influencing Athletics to sell jerseys to the public?  There exist too many unknowns for me to predict the likelihood of that.  I don't know if those I corresponded with within Athletics were dishing out a series of deal breakers simply to make me go away.  Hopefully the less cynical interpretation of them relaying stale and factually inaccurate information caused them to believe my idea was a non-starter.  Ultimately, I also don't know if the venture would prove worthwhile even if Athletics chose to invest the time and expense into the endeavor.  However, I do know that if they were motivated to do so and saw merit in the venture, I now know they could.  Maybe, just maybe, with UCSB hosting the College Cup next year, with the way being shown, and with fans contacting Athletics asking for jerseys, it's an idea that will grow some legs.
In the end, if nothing else, I was able to show appreciation to some of my favorite former players and dedicated fans that I've come to know over the past 15+ years who have all played integral parts in making UCSB soccer what it has become today.  Certainly no harm can come from spreading some goodwill.
I expect a number of jersey recipients to share with me photos with their new jerseys, so keep an eye out on this site and on my Twitter feed (@GauchoSoccer).  Personally, I ended up with Feucht and Iro (#4)… along with a few spares for my Sunday pickup games.
*****************************************
All the packages I sent arrived at their destination on November 6.  If you've been a longtime fan of UCSB soccer or basketball, you surely know Reza.  He seems to like the jerseys.
And what's Reza without a cheer.
Of course, Big Mike has been a fixture at games for a long time.  In fact, we met back in 2005 when UCSB opened the season at a tourney hosted by UNLV.  Yeah, Vegas!  We witnessed Pontius' first collegiate goal as a freshman!
Current UCSB student and co-host of the Futbol v Football podcast, Thomas Wheaton, really likes Rodney Michael, so he requested the #9 jersey.  Can't disagree with that choice.
Bryan Byrne, national champion/winger/#7.
Kevin Garcia-Lopez,  opting to wear the blue jersey on this day.  Lightly recruited 5'6″ centerback converted to right back crowned 2014 Big West Conference Defender of the Year.  May or may not still answer to J-Lo.
Arthur Wilkie from KCSB Sports and the other half of the Futbol v Football podcast asked for the #6 jersey, motivated by Nick DePuy and sustained by Jan Ilskens.  Both are beasts, just like Arthur.
Long time UCSB fan, his son, and his doggo sporting their new jerseys.
Ish Jome chilling in the Minnesota United FC locker room.
Honorary Gaucho Girl Andrea is breaking up this sausage party. Jersey looks good (err, better) on the female of the species.
Sorry, fellas, but she's taken by this #10 playmaker… none other than my bball counterpart, @Gauchohoops.
Felipe Garcia, long time photog and friend of the team, had an upcoming birthday.  His son reached out to me, and I was able to scrounge up one of my remaining jerseys for this dedicated fan.  Keep snapping photos, Felipe!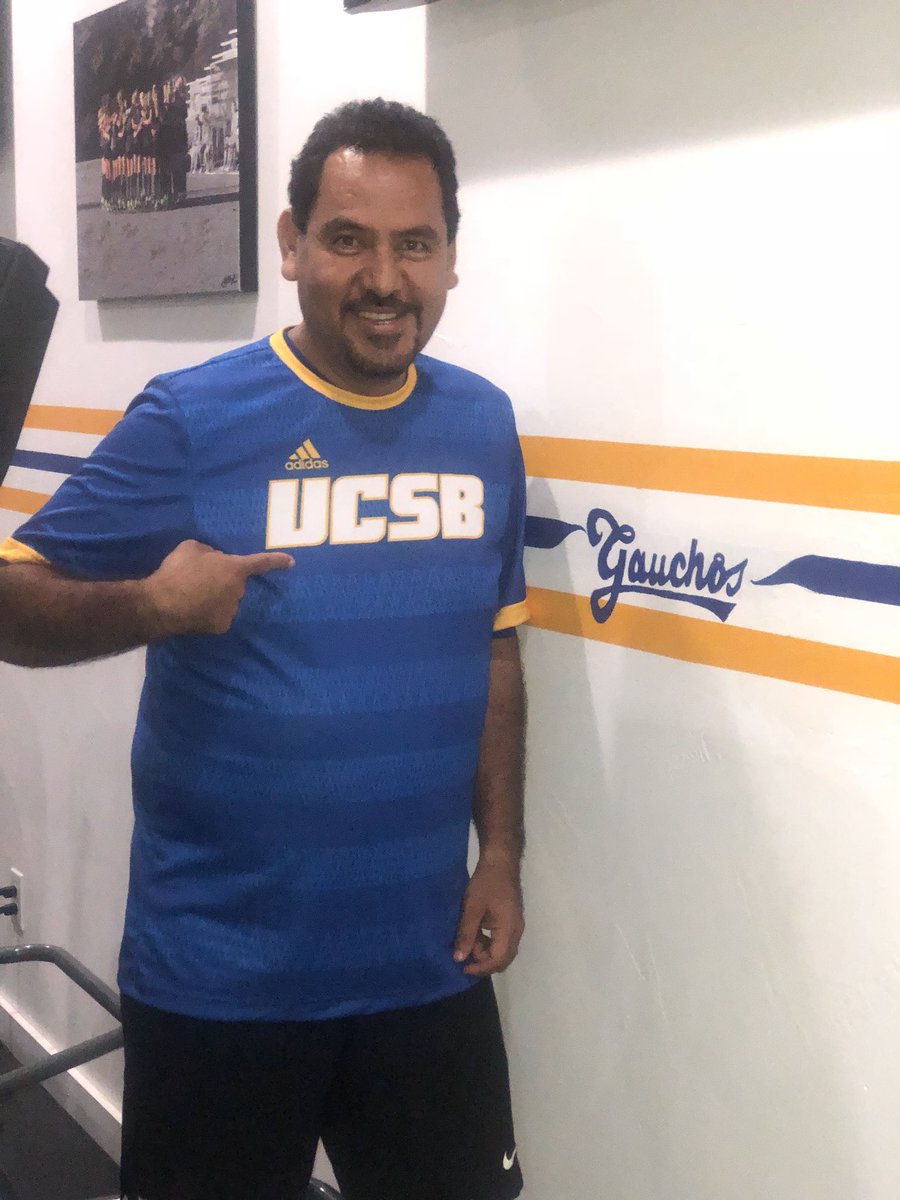 Other recipients include: Luis Silva, James Kiffe, Danny Barrera, Kyle Reynish, Dan Kennedy, Ema Boateng, Chris Pontius, Michael Boxall, Neil Jones, Drew McAthy, and a number of fans.  More pics to follow…